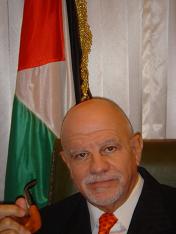 A life devoted to Peace among People and,
dignity and freedom for his Palestine people
The tenth "Olive Tree for Peace" was planted on May 23 of 1997 in Gualeguaychu city ( Entre Rios province ), which is highly visited by tourists.

H.E. Ambassador Suhail Hani Daher Akel was named "Guest of Honour" of the city and he was also given the "Key of the City" by the city Mayor.