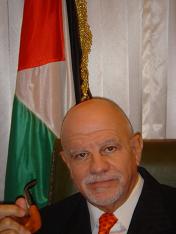 A life devoted to Peace among People and,
dignity and freedom for his Palestine people
The Argentine city of Mendoza, known for its olive groves and vineyards, gave its message in favour of peace, planting the eleventh "Olive Tree for Peace" on November 24 of 1997.

The Ambassador was named "Guest of Honour" and he was also given the "Emblem of the City" by the city Mayor.

The Governor of Mendoza province named the Palestine Ambassador "Illustrious Guest".