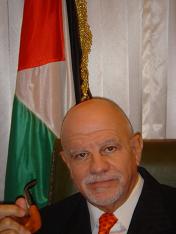 A life devoted to Peace among People and,
dignity and freedom for his Palestine people
With a liberation of pigeons, the twentieth "Olive Tree for Peace" was planted on July 5 of 2001 in Dolores city.

At that time, Dolores Council and the Embassy signed an Letter of Intention- saying "Friendly people of Palestine".

The Ambassador was named "Guest of Honour" by the city Mayor and the Honourable Deliberating Council in a Special Session, where the Ambassador received the "Emblem of the City".