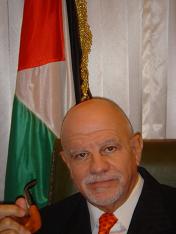 A life devoted to Peace among People and,
dignity and freedom for his Palestine people
On June 5 of 2003, Jose Ingenieros city planted the "Olive Tree for Peace", showing his message in favour of peace.

The city Mayor named the Ambassador "Guest of Honour" and he also gave the Ambassador a "Plaque of the City".

It took place in a day of vital importance to the Palestine people who remember the "Occupation of Palestine in 1967".