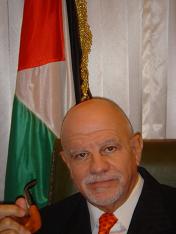 A life devoted to Peace among People and,
dignity and freedom for his Palestine people
The twenty fourth "Olive Tree for Peace" was planted on August 20 of 2003 in Villa María city (Cordoba province).

The Ambassador was named "Guest of Honour" and the city Mayor gave the Ambassador the "Emblem of the City".

In a Special Session, the Honourable Deliberating Council named the Ambassador Suhail Hani Daher Akel "Illustrious Visitor" of the city.