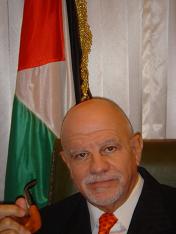 A life devoted to Peace among People and,
dignity and freedom for his Palestine people
In the Los Surgentes City, Cordoba Province, was planted the thirtieth "Olive Tree for Peace" on November 8 of 2005.

The city Mayor gave the Palestine Ambassador the "Key of Los Surgentes City" and named the Ambassador "Honour Visitor".

Both of them signed an agreement for the "Brotherhood between Ariha (Jericho Palestinian city) and Los Surgentes City". Also was street inauguration "Bethlehem City- Palestine State".