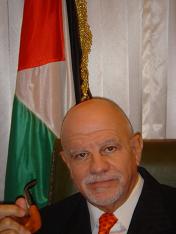 A life devoted to Peace among People and,
dignity and freedom for his Palestine people
The third "Olive Tree for Peace" was planted on February 24 of 1994 in Mar del Plata.

The city Mayor gave the "Emblem of the Tourist City" to the Ambassador".

Unfortunately, the Tree for Peace was pulled up by violent people. In favour of the Peace of Braves, a new Tree was planted and a commemorative plaque unveiled in January, 2005.