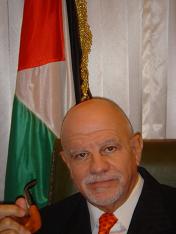 A life devoted to Peace among People and,
dignity and freedom for his Palestine people
The Palestinian Embassy Building - 1996-1999
The efforts and lobby carried out by Ambassador Suhail Hani Daher Akel to achieve that Argentina granted a building for the opening of the Palestine Embassy in Buenos Aires were a lot.

Finally, he obtained that the Argentine government gave him the keys of the building on October 30th of 1996. It is a four-storey building with an excellent location, right in the heart of the Federal Capital. Unfortunately, it was completely destroyed in general.
Repairing the building was a challenge. It was a new and difficult stage. With time, alternatives and positives contacts made that the Argentine government renovated the building with solidarity, being beautiful and decent for the interest of the Palestinian People in the Friendly Argentine Republic.

Ambassador Suhail Hani Daher Akel inaugurated the Palestine Embassy on November 25th of 1999.