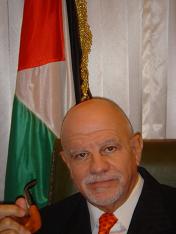 A life devoted to Peace among People and,
dignity and freedom for his Palestine people
Magazine Noticias
Buenos Aires – May 2, 1998
The Palestinian catastrophe (view)
By Suhail Hani Daher Akel *
With a sensitive West, the distortion of Palestinian people's tragedy has always been common knowledge. These people have been discriminated against by the Hebrew forces since the fall of Jerico (1022 b.C.); they have faced the Roman occupation (64b.C.), the burning of King Salomon's temple (70a.C.), their territorial partition (1947-48) and the total occupation of their country (1967). There have not been concerted efforts to repair these injustices.
Due to guilty consciences, as a result of the ominous Nazi Holocaust, there is a new holocaust which has not been highly spread. A new country is established on another one, its population is changed for a new one, 60% of the people are expelled from their homes and homeland, turning thousands of Palestinians into refugees. I myself possess this unpleasant title which has reached 50 years today. Although the United Nations decides to divide Palestine into two States, only one of them has established, developed and occupied the other one.
After 50 years -with a region which is constantly facing clashes, injustices and violent acts- Palestinians and Israelis fortunately start believing that their existence is as irreversible as the one of their own sovereign state. Then our President Yasser Arafat shakes hands with Prime Minister Yitzhak Rabin and they carry out the required change. An Israeli kills Rabin and Mr. Netanyahu becomes a ray of hope. But unlike Rabin and Peres, he had the audacity to bring the peace process to a halt and encourage the fanatic grudges from both sides. These are difficult times for Palestine and Israel. All of us have to co-operate, encourage and improve dialogue in order for the new generations to live in peace, with tolerance and dignity and in order for them not to be forced to remember –within 50 years- new holocausts due to our guilty and bad consciences.
* A representative of the Palestine Authority in Argentina