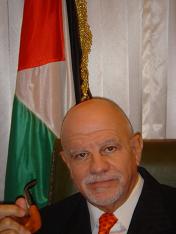 A life devoted to Peace among People and,
dignity and freedom for his Palestine people


Newspaper La Capital
Mar del Plata – Wednesday, September 29, 2004
The diplomat has been declared Illustrious Citizen (view)

Yesterday the Palestine Ambassador, Suhail Hani Daher Akel, was declared Illustrious Citizen of General Pueyrredon during a ceremony at the presidency of the Deliberating Council.
The ceremony was presided over by Vice-president Viviana Azcurra who is in charge of the presidency of the Deliberating Council. There, the diplomat received a copy of the decree from her.
Previously, the diplomat had had a meeting with Mayor Daniel Kats. He expressed the greetings of President Yasser Arafat, "Palestinian people and Palestinian leadership" to the Mayor. He was thankful for the Mayor's meeting where they interchanged opinions and the diplomat talked about the mutual commitment to plant an olive tree for peace in the near future".
He said that it has been an important gesture of the Mayor, "it is a restored contribution" because a similar tree –which has been damaged- had been planted in Rocha square some time before. We want to believe that the local people did not damage it, but those tourists who daily visit Mar del Plata. Today it does not practically exist, so the Mayor and I have renewed our compromise with the peace of the braves".
He expects that the tree starts growing in step with the peace required by people, "above those people who try to block people's peace and dignity and above those interests which want us to be engaged in a permanent bloodshed. I expect that this tree which we are going to plant in Mar del Plata once again becomes a tree of live and I expect that this tree which we are going to plant in Argentina, which is an example of the cohabitation which exists among Arab, Jews and the rest of the communities, becomes a peace contribution to the Holy Land".