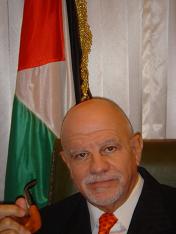 A life devoted to Peace among People and,
dignity and freedom for his Palestine people


Newspaper La Voz del Interior
Cordoba – Saturday, December 18, 1999
Palestinian Ambassador, an Illustrious Visitor (view)
The Ambassador of the Palestine Authority in Argentina, Suhail Hani Daher Akel, was declared Illustrious Visitor by means of a decree which was signed by the City Mayor, German Kammerath.
The ceremony where the diplomat received an authenticated copy of the decree and signed the illustrious visitor book of the Municipality took place at the Palacio 6 de Julio, yesterday.
Suhail Hani Daher Akel was the delegation chief at the so-called Palestinian Jewish Round Table for Peace in 1987.
Likewise, he has planted Olive Tree for Peace in 15 Argentine provinces and in the United Nations square in Buenos Aires City.
He has also written several books related to the history of his people.

Photo. Suhail Hani Daher Akel signs the illustrious visitant book of the Municipality