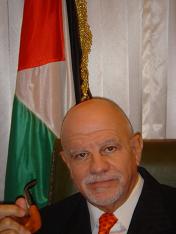 A life devoted to Peace among People and,
dignity and freedom for his Palestine people
Newspaper La Republica
Montevideo, Uruguay – Tuesday, March 10th of 2005
Palestine invited for first time (view)
The Palestine Ambassador in Argentina, Suhail Hani Daher Akel, was invited by President Dr. Vazquez to the Assumption ceremony today. Uruguay has never maintain diplomatic relations with that State. The invitation is interpreted as a first auspicious gesture.
The Ambassador brings a personal letter from the Palestinian president Abu Mazen for president Vazquez. Uruguay does not have diplomatic relations with Palestine. Therefore, the invitation is considered a promissory one for the an immediate future.
The Ambassador lives in Buenos Aires and he arrives today via Aerolineas at 9.30. He will stay at Lafayette Hotel.
Consulted a member of the American-Arab Federation of Entities-AAFE (FEARAB), Dr. Alem Garcia, he expressed that AAFE "has carried out many arrangements for more than 30 years, all of them have not succeeded". But he showed himself enthusiastic about the Palestinian Ambassador' s invitation who he has a close relationship with".