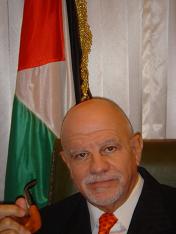 A life devoted to Peace among People and,
dignity and freedom for his Palestine people


Newspaper Clarin
Buenos Aires, Argentina, Sunday, November 7th, 2004
Section The World - Page 28

He never declined his effort for a worthy peace (view)

By: Suhail Hani Daher Akel,
Ambassador of Palestine

I remember the firm glance of the president Arafat toward the future, which almost as a prophecy indicated: "the war exploded in Palestine, but it is in Palestine where the peace will be born".
His efforts for a worthy peace never declined and the words resonated in the conscience of a warrior, (Yitzhak) Rabin, who deposed his arms in front of the peace of the braves proposed by Arafat. With the effort and the essential recognition of attaining an agreement, both started a new road on the thorny Palestinian-Israeli reality.
The restitution of the Palestinian State, neighboring to the State of Israel, inspired Arafat to a new project based in the consolidation of a Palestinian-Jordan-Israeli confederation, with winds of development, which gives rise to a future block of Middle East.
To Sharon, Arafat is an obstacle like it was Rabin. Rabin was assassinated by an Israeli terrorist. Sharon fenced militarily to Arafat in order to destabilize his leadership.
The disease of Arafat, aggravated by the confinement, was not as painful as to be hospitalized in Paris. The generosity of France is valued, but the memory of a renewed exile hit the heart.