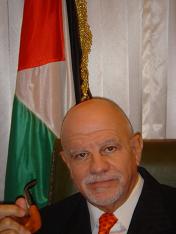 A life devoted to Peace among People and,
dignity and freedom for his Palestine people
Paraguay Republic Embassy
Buenos Aires – Argentine Republic - June 26th of 2000
EP-ARG-5-Nº198/2000 (view)
Mr. Ambassador:
I have the pleasure of writing to H.E. with regard to your note dated November 8th of 1999, where you informed us of the Palestine National Authority' s interest in strengthening the diplomatic and friendship bonds with Paraguay.
With regard to this, I have the pleasure of informing you that the Paraguayan Government is really interested in the fact that the Palestine National Authority establishes a Special Mission in charge of commercial, cultural, economic and cooperation issues in the Paraguay Republic.
I take advantage of this opportunity to renew H.E. the securities of my most distinguished consideration.
Leila Rachid Lichi
Ambassador
H. Excellence
Ambassador SUHAIL HANI DAHER AKEL
Mission of the Palestinian National Authority
Present