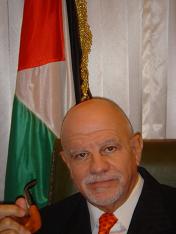 A life devoted to Peace among People and,
dignity and freedom for his Palestine people


Newspaper Clarin
Buenos Aires – Sunday, June 16 of 2002
PALESTINIAN CRITICISM
A reply to Ariel Sharon (view)
The Palestinian Ambassador in Argentina, Suhail Hani Daher Akel, criticized the stance established by the Israeli Premier Ariel Sharon. In a note published by The New York Times and reproduced by Clarin last Friday, Sharon maintained that his country is not going to go back to the borders established before the 1967 war and it is not going to accept the division of Jerusalem.
"The lack of reaction before the Palestinian holocaust thickens with the lack of international reaction before Sharon's aggressive verbosity in The New York Times, where he establishes his stance about a Palestinian State. A State which becomes a Bantustan instead of a sovereign State", the diplomat expressed in an interview. Akel added that Sharon "is opposed to going back to the 1967 borders, putting an end to the occupation in East Jerusalem and –with a strong diplomatic amnesia- having a global peace conference with Arabs".
Akel added that "on the same day that Sharon's pen illustrated its violence in the American newspaper, the Security Council stated its worry and demanded the ending of violence and occupation in its meeting 4552 (June 13). By means of veto or in practice, this is a resolution which is generally eclipsed by the United States and transformed into ink over a paper by Israel, just as resolutions 1397, 1402 and 1403".
The Ambassador also maintained that "President George Bush received Sharon six times – while Sharon was going through a 16-month government- and he never received Yasser Arafat". And he emphasized that "the lack of objectivity proven by Bush makes him receive Arab leaders to deal with the conflict. But, he does not receive Palestinian ones. While he mentions a Palestinian State in his dialectics, he actually allows Sharon to attack the presidency in Ramallah". According to Akel, "this US ambivalent policy moves the United States away from its responsibility of being responsible for the agreements. This ambivalent policy transforms the United States into a partner of Sharon with regard to the deaths of Palestinian and Israeli civilians".