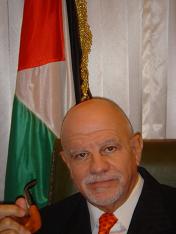 A life devoted to Peace among People and,
dignity and freedom for his Palestine people
Newspaper El Cronista
Buenos Aires – Argentina, January 11th of 1996
Arafat' s visit
Palestinians with a diplomatic headquarters
(view)
The Palestine Representative in Argentina, Suhail Akel, announced yesterday in a press conference that Carlos Menem' s government, by means of its Foreign Affairs Ministry, granted diplomatic status to his representation in Buenos Aires.
With this decision, Argentine has formalized its "acknowledgment to the Palestine National Authority and the PLO", said the diplomat representative, after expressing El Cronista that the new status of his delegation will facilitate the dialogue with the Israeli representation in our country. "I expect to maintain a contact with the Ambassador of that country soon", he emphasized.
Akel considered probable that the PLO leader, Yasser Arafat, visit Argentina this year, answering an invitation of Menem. "We hope the Menem also visits Palestine, where he will be welcomed", he said.
The diplomat also announced that the "Argentine-Palestine Chamber of Commerce" has been constituted, "a fundamental commercial bond for the relations among the Argentine Palestine entrepreneurs".
Finally, Akel thanked to the Argentine people for their solidarity with the fair fight that the Palestinian people carried out during many decades in order to achieve the independence of the occupied territories.