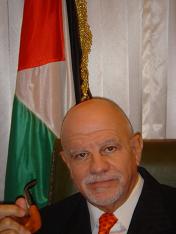 A life devoted to Peace among People and,
dignity and freedom for his Palestine people
Newspaper Clarin
Buenos Aires – Wednesday, January 10th of 1996
Palestinian Status (view)
In a fact that he qualified as "historic", the Palestine National Authority' s representative in Buenos Aires, Suhail Hani Daher Akel, confirmed yesterday to Clarin newspaper the decision of the Argentine Chancellery of granting the status of Representation to the Palestinian mission in the country.
Up to now, "a new stage of relations begins, culturally, socially and economically", Akel explained.
The status, granted last Friday, does not reach to an Embassy because Buenos Aires does not recognize the Palestine State yet. But Akel manifested his wishes of extending the status in the frame of the peace process with Israel, and he considered "very possible" the opening of an Argentine diplomatic mission in Palestinian land. The representation will have the mission of reflecting the interests of the Palestine National Authority in the country and the firm purpose of "building and constructing", he assured.
The boss of the Palestinian mission in Argentina also foresaw the visit of the president of the Palestine National Authority, Yasser Araft. And Although did not want to give exact dates, he said in advance that he hopes it "will be fulfilled this year".
The Palestine National Authority counts on with more than a hundred offices all over the world. Among the recently opened, there are the representations of the Vatican and South Africa.