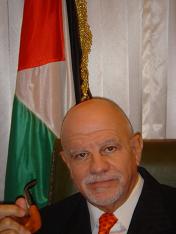 A life devoted to Peace among People and,
dignity and freedom for his Palestine people
Newspaper Clarin
Buenos Aires – Argentina , Sunday, January 12th of 1997
Arafat thanked Menem for the real estate' s donation (view)
The President of the Palestine National Authority, Yasser Arafat, thanked President Menem – by means of a personal letter - for donating a real estate for the Palestine Embassy headquarter in Argentina.

The letter, which was delivered by Ambassador Suhail Hani Daher Akel, says that the "initiative of handing over a real estate for the headquarter of our Palestine State representation in the friendly Argentina had a notable repercussion on our people and authorities' s bosom.

They feel a great admiration for H.E. and they thank this courtesy". In his letter, Arafat also mentioned the "difficult political and economic moments which suffer the Palestinian people".