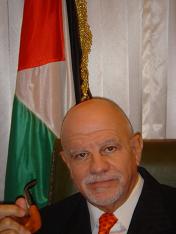 A life devoted to Peace among People and,
dignity and freedom for his Palestine people
Newspaper Pagina/12
Buenos Aires – Argentina , Saturday, November 16th of 1996

A building for Palestine (view)

The national government handed over a four-storey building for free. It is located in Barrio Norte and it will be used for the establishment of the future diplomatic delegation of the Palestine State, according to what was said yesterday by Ambassador Suhail Hani Daher Akel, chief of the Mission of the Palestine National Authority in Argentina, during a celebration for the eighth anniversary of the Palestine State independence declaration.

The building, which belonged to the welfare coverage of Obras Sanitarias' s personnel, is located in 981 Riobamba street. Akel said that the donation took place as a result of "an express petition of President Yasser Arafat to President Carlos Menem and it will be useful to fortify our friendship, our cooperation, as well as, to deepen relations between our two people.