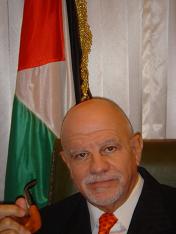 A life devoted to Peace among People and,
dignity and freedom for his Palestine people
On January 20 of 2005, the "Olive Tree for Peace" that had been planted in February 1994 in Mar del Plata city was planted again since violent people had pulled it up.

The Palestine Ambassador was named "Guest of Honour" of the tourist Mar del Plata city.

On the other hand, the city Mayor and the Palestine Ambassador accorded to join together Mar del Plata and Gaza.