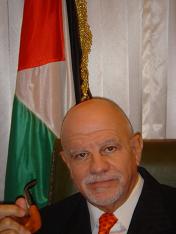 A life devoted to Peace among People and,
dignity and freedom for his Palestine people
The fifth "Olive tree for Peace" was planted on October 7 of 1994 in Rio Cuarto city.

The Palestine Ambassador was named "Guest of Honour" by the city Mayor and the local Deliberating Council.

The Río Cuarto National University named the ambassador " Guest of Honour of the University".