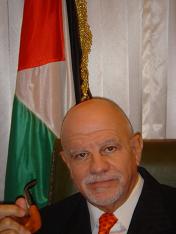 A life devoted to Peace among People and,
dignity and freedom for his Palestine people
Santiago del Estero city have taken cared of its "Olive Tree for Peace" since 23 of April 1997.

The city Mayor gave the Ambassador the Decree of Illustrious Visitor and the Ambassador was named "Guest of Honour of the Province" by the Honourable Legislative Council of Santiago del Estero Province.

On the other hand, the Argentine Catholic University in Santiago del Estero gave the Ambassador the declaration of " Guest of Honour of the University".