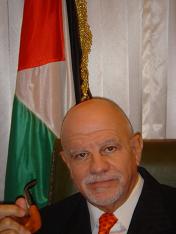 A life devoted to Peace among People and,
dignity and freedom for his Palestine people
Newspaper La Prensa
Buenos Aires – Monday, November 15th of 1999
Palestine Embassy is inaugurated (view)
The first Palestinian headquarter in Argentina will be inaugurated today with the presence of Carlos Menem in the framework of the celebration of the Palestine National Day.
The new diplomatic headquarter will be inaugurated at 19:30 and it will be located at Riobamba 981, Buenos Aires City, according to what was informed by Ambassador Suhail Hani Daher Akel in a press conference.
The diplomat expressed that it was foreseen the presence of the elected President Fernando de la Rua, to whom the Ambassador wished "he is in good health soon".
The Palestinian ambassador also indicated that the first Palestinian headquarter in Argentina "is a contribution of the National government" and it will be "an excellent place for those people who are committed to the peace of the braves, the peace between Palestinians and Israelis in particular and the peace in Middle East in general.
Therefore, during the Act, the inaugural ribbons will be cut, the allusive plaques will be unveiled and the book "Palestine 2000, History of a Country in its Landscapes, Music and Poetry" will be presented.