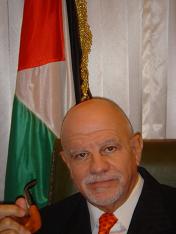 A life devoted to Peace among People and,
dignity and freedom for his Palestine people
Newspaper La Capital
Rosario – Santa Fe, Friday, April 27th of 1990
Project for the recognition of Palestine (view)
The Palestine Information Office in Argentina points out in a announcement that a Declaration Project has been presented in the Chamber of Deputies of the Nation for the recognition of the Palestine State on behalf of Argentina, giving place to the opening of its diplomatic Embassy in Buenos Aires. The initiative, which took place during the "Week of Palestine", contains the signatures of fifteen members of the Legislature who belong to the Justicialist Party, the Civil Radical Union, the Intransigent Party and the Democratic Christianity.
With the participation of the Justicialist Deputies German Abdala, Juan Pablo Cafiero and Franco Caviglia, the Director of the Palestine Information Office, Suhail Akel, and representatives from non governmental organizations of United Nations, the declaration project was made public in a press conference offered in "Pasos Perdidos" hall at the Chamber of Deputies.
Deputy Abdala spoke of the initiative by pointing out that "it responds to the history and tradition of our people on the principle of self-determination of countries".
Akel, on his behalf, said that "the Palestinians should enjoy the same rights than all countries enjoy, having a voice by means of an Embassy in Argentina", putting emphasis on the need of the Palestinian-Israeli dialogue "for achieving peace"